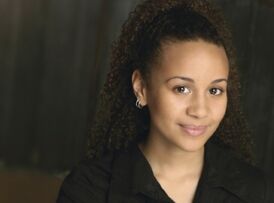 Emily Davis is Casey McDonald's best friend and next door neighbor. Emily has appeared in most of the episodes. She is portrayed by Shadia Simmons.
Personality
[
]
Emily is shown to be caring and also very comforting to Casey. She also has a sense a humor and always has a great solution. Most of the time she is helping Casey or Derek out with their own problems. She can sometimes feel pressure to go with the crowd but can easily be eased into doing what she knows is right.
Appearance
[
]
She has curly brown hair and deep brown eyes. She has a normal body weight and a proportionate shape.
Relationships
[
]
Casey
[
]
Casey is Emily's best friend and next door neighbor. Emily helps Casey out with many of her problems and keeps her up-to-date with school news and popularity status.
Love Interests
[
]
Derek
[
]
She seems to have an on and off relationship with Derek. In the beginning of the first season she has a huge crush on him. Derek asks her to dinner in an episode, which Casey crashed trying to save Emily from humiliation. Also, Derek asked her to prom in an episode, but Emily felt bad as she promised to go with Casey. As Derek has a new love interest in the film, it can be assumed any romantic affiliation he and Emily had with each other at the time of Futuritis ran its course.
Sheldon Shlepper

[

]
Sheldon was dating Emily throughout the show untill he moved to Newfoundland and they ended the relationship.